As many top professionals have said and continue to say , the grip technique is Essential in the game of golf. Our Patented 6 finger glove helps all golfers with the grip, from beginners to advanced players and keeps one hands connected throughout the swing for solid shots. Endorsed by P.G.A. Pro Darrel Kestner on the package and P.G.A. pro Jason Baile on the video demonstration. See the 6 finger glove page.

At Nassau we use grips made by our Tour Edition Grip Company Made in freeport New York for our Irons and woods. Our putter grip is also made in U.S.A We are second to none. WE make precision engineered products.

At Nassau Precision Casting Co., Inc and Nassau Golf , we are here to service your needs, We are not a conglomerate looking for every dime. Robert Chorne our president has a passion for golf and helping golfers and athletes. Robert is a golf expert recognized in the industry for his creativity, expertise and more. He is here to help you the golfer whether you need one of our unique irons, woods, putter, wedges, grips, training device, shafts, bags , lessons, advice and more. Mr. Chorne is respected and respectful. Feel free to reach out.
Whether you are a golfer , golf pro, golf company looking for help with manufacturing needs,head development , manufacturing grips,shafts, products, media etc. throughout the world. We are here for you.
The Tour Edition™ 6 finger golf glove Patented  trains all golfers for proper gripping of the golf club and keeps the hand connected throughout the swing for solid shots. Endorsed by P.G.A. pro Darrel Kestner and P.G.A. pro Jason Baile  See 6 finger glove page under Training products. Truly amazing.
We've created the ultimate iron: a tremendous redistribution of weight, reducing club head twisting, transferring more energy to the ball at impact. We use exclusive True Tone® ultra-lightweight frequency controlled shafts by True Temper. The only shafts with True Tone® dual kick technology for precision loading and unloading.  Available in all flex categories, multiple flexes available in each flex category.  Also available with CBI high-performance graphite. The feel, performance, and distance bring the CBI Irons to a level no iron has ever known before. 
Substantially Longer
More Forgiving
More Consistent
Available 1-9, PW, SW & LW
RH  and LH
TITANIUM CAVITY BACK WOOD ™
INNOVATION
Our Cavity Back Wood were the only golf clubs ever featured by AT&T sports science and technology on ABC- TV during the independence Insurance open on the P.G.A Tour and then surprised us with a spot on Monday Night football ,2 minutes before halftime between the NY giant and Pittsburgh Steelers, Chris Schenkal did the voice over and IMG in New york City did the production. Showing our driver hit Longer and straighter. Also featured in Alba Japan's leading golf publication with a 3 page spread showing a Pro from Japan hitting our Driver longer than with a Japanese leading Brand. A surprised happy face in the  photo. Featured worldwide. A true breakthrough in weighting of a golf club.
THE NASSAU CROSSBOW™ DOUBLE BARREL™ PUTTER AVAILABLE RH & LH
Double Barrel™Crossbow putter  Right or left hand. Many features that help the golfer get the ball in the hole. Perfect balance keeps the head square vs other leading brands that open.
Superb feel, balance, sighting with an arrow that one can dial in one's intended line. The face forward design keeps one's head behind the line.  Sighting, Balance, Roll…..so much to help all golfers get the ball in the hole more often. Already used by pros and amateurs of all levels. See Page under clubs  Double Barrel Crossbow  Putter
Easy to dial in the arrow to your target and putt.
The Nassau Crossbow™ Double Barrel™ putter wants to stay square. Great feel , balance , sighting and more.
THE MOST VERSATILE GOLF BAG IN GOLF. Push, Pull, Carry, CART
WHEELS ON | WHEELS OFF IN SECONDS.
Revolve ™ Tour Edition ™ Golf bag  The one in everything golf bag. Push, Pull, Carry, Cart. Wheels on or off in seconds. Use all over the course. When one gets up to the green the stand deploys automatically when the bag is leaned forward.  After putting out , Carry the bag across the green with the shoulder straps  harness and then keep wheeling, instead of wheeling all around the green like a cart. If on a cart, pop off the wheels with the press of a button and the wheels with axle attached pops off. Most courses do not allow carts at the driving range. A perfect time to use the revolve bag, pop on the wheels in seconds, take your entire bag to the range, practice properly and roll the bag back to your cart , pop off the wheels and pu on cart. When finished with the round wheel your bag back to your automobile. Truly the one in everything Bag. See the video on the Revolve Bag Page.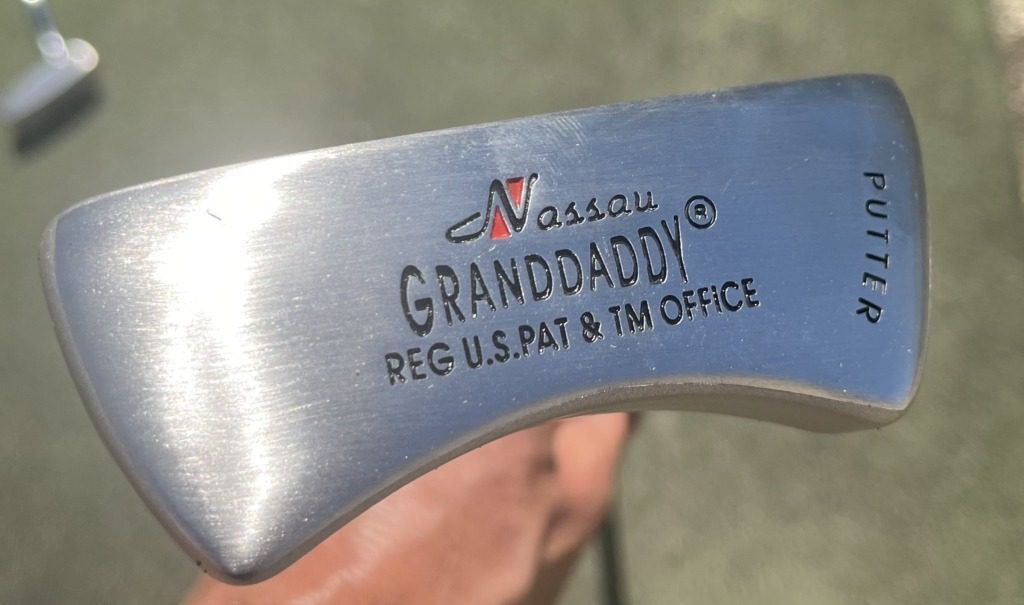 NASSAU GRANDDADDY PUTTER RH
Metalwood stainless steel type casting. Allows redistribution of weight and perimeter weighting. Solid feel and fabulous true roll.
Straight Shafted allows face forward $110.
Bent shaft $120.
WE'RE ABOUT QUALITY AND TRUST. TECHNOLOGICALLY ADVANCED EQUIPMENT
At Nassau We engineer the products we make. We stand behind them in quality and value. Second to none. Our clubs are made one by one whether in a set or individual clubs. Each shaft is matched and synchronized to the head for peak performance. The grips that we produce have no seams on the irons and woods. Held to better tolerance than the knife and fork one eats with. Less than half a gram. The training devices like Tour Edition Target Alignment System and Tour Edition 671 Total Swing System are molded here on Long Island, New York. We tell every customer. Please report back to us. We are here to help you and make you happy.
We have been  in the golf business for over 6 decades. We have had our clubs played on tour and products  used on Tour  without ever paying a pro.   We understand the golf swing, fitting, lessons (from the ground up), loading and unloading of shafts, head design , performance, knowledge and  function for better performance.  Try us and you'll be pleasantly surprised for the better.
We have been  in the golf business for over 6 decades. We have had our clubs played on tour and products  used on Tour  without ever paying a pro.   We understand the golf swing, fitting, lessons (from the ground up), loading and unloading of shafts, head design , performance, knowledge and  function for better performance.  Try us and you'll be pleasantly surprised for the better.
99 Russell Pl
99 Russell Pl, Freeport, NY 11520, USA
Golf Pro Instructor, Design and Development
Robert is an expert in golf club design, club head design, Irons, woods, wedges, putters, grip manufacturing, and shaft technology. He has invented and patented several breakthrough products in the golf industry including the revolutionary iron and wood technology. His clubs have been featured by At&t Sports science and technology on ABC -TV, ESPN Hale Irwin's Golfing America,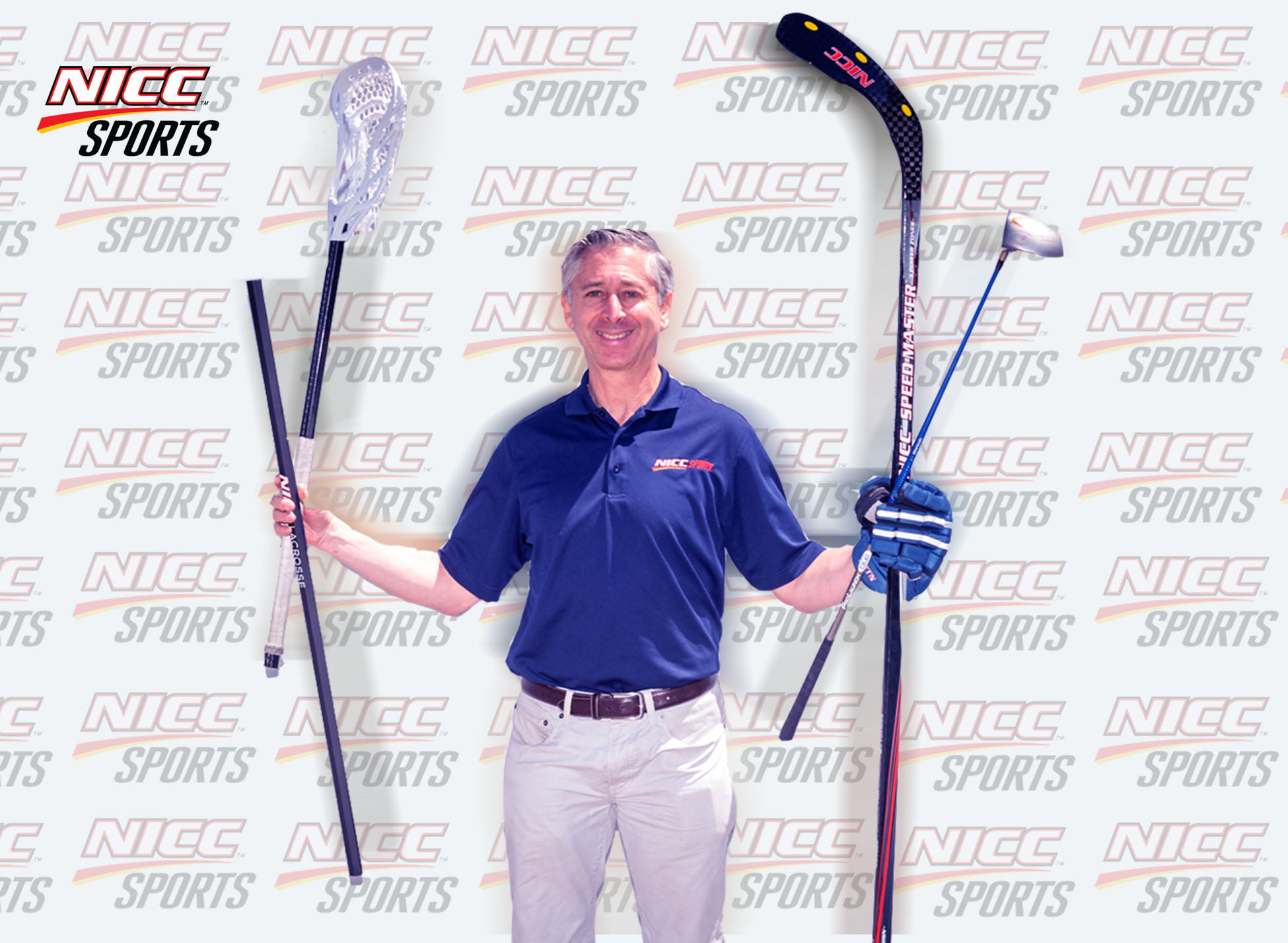 The Robb Report, Japan's leading golf publication ALBA Magazine as the inventor of the Revolutionary Nassau Cavity Back Woods, and locally on News 12 Long Island, and Newsday often, as well as many other publications worldwide, in addition to being interviewed by Jay Randolph at the PGA show. Robert's patent and pending products, The Tour Edition 6 Finger Glove and The Revolve Golf Bag respectively are now available for purchase.
A pro in golf instruction and club fitting. Robert has assisted countless professionals and fit many Tour players with both Drivers and irons. His incomparable analytical mind finds solutions to just about all your golfing needs.
We Love our Clients, And They Love Us
I have been playing with your irons now for almost two years, At age 76, I was a 9 handicapper and climbing. Today at 78, I am a solid 6 from the back trees. The additional distance and accuracy that your irons provide has been a positive contribution to my improvement.
I am not normally a letter writer, but i Felt compelled to tell you. Keep up the good work.
I had been using the Ping Zing with the qraphite shaft and there is an unbelievable difference between your clubs and theirs. It is like night and day. Thank you once again and I have now become your spokesman, encouraging everyone to own these clubs.
Very truly_yours,
It was May 1, 1993 when Bob Chorne gave me a new set of his CBI irons to try. He never gotythe set back; as a matter of fact, I asked him to make me a lob wedge to match. Well, the '93 golf campaign is over and I must tell you I can't believe these irons. They've taken an old Tour Player like myself, who hasn't really competed much since
becoming a Head Golf Professional and instantly I played very respectable in local P.G.A. events this year. It has raised my hopes and desires to the point, where I can hardly wait to compete in 1994.
These irons feel great! Their balance and weight is perfect. The leading edge sits and aligns so easily.But, best of all, I added 25 yards
to my short irons, 15 yards to my mid irons, and 10 yards to my long irons game. What a difference I noticed in my iron game this year. A lot less mistakes and alot more birdie opportunities.
First of all, I must thank you. Bob for the opportunity to playthe CBI irons. It is the greatest. Secondly, you say you might have a driver for me that might add 20 to 25 yards. Ch Bob, I can hardly wait.
Thanks again.
Your Head Golf Professional, and friend,
Tommy Thomas
INWOOD COUNTRYB CLUB
inwood, LI,N.Y. 11696
Although I found that the clubes odded distance, the accuracy, feel and trajectory of the CBI irans make them the best golf clut available today in my opinion. Shots hit in the heller on the toe go straight and tend to only lose a minimal amount of distance.
I hond let several of our members as well as several professionals at the clubs and each have gotter great performance no matter what skill level Thank you for making a great yet offordable golf clut.
I am pleased to advise that your tour CBI editon irons have completly changed my
golf game in the most possitive way imaginable.
on of my clients in michigan was fortunate enough to have a set of your icons and he s
sent me a gift of set of your irons with graphite shafts last week i took them to my
golf course and practiced for one day.
I am a 70 yeare old weekend-21 handicap golfer.
"I am writing this short testimony to you concerning my feedback from the cb1 tour edition irons which I received about a month ago. I met you at the PGA Show in Orlando, Florida back in January 2022. Since receiving these irons I have played approximately a dozen rounds of golf with them. These might be the most stable golf clubs I have ever hit. Having played on the PGA Tour in the early 1990s and then on the PGA Champions Tour from 2005 thru 2015 I have had access to all the top brands of equipment from all the major manufacturers. With your design of this clubhead and the golf shaft of which you developed as well I can honestly confess these irons are at the top of my list. Being able to work the golf ball both directions and controlling the trajectory is a must to play at the highest level. These irons provide me with a very consistent shot pattern. I'm extremely thankful for having met you and your honesty in presenting your product to me. Looking forward to playing these irons for the rest of my golfing days."
"The CB1 tour model irons are the most stable irons I have ever used. They square up to the target line so easily. Best irons I have ever played. I hit the 7 iron 155 yards and my age is 65. Current handicap is 6 and I hope to get it to a 3 by year's end. I am going to get an extra set of irons to have in Florida."