Golf Club Sets in Nassau County, NY
Used and ordered by the PGA Tour, PGA Senior Tour, Ben Hogan Tour, NIKE Tour, LPGA Tour and PGA Professionals. Also featured on Monday Night Football!
The Cavity Back Wood™ provides the greatest transfer of energy. No other wood can compete with the engineering or performance of the Cavity Back Wood™. This club is equipped with our exclusive frequency-tuned CBW high-modulus boron-graphite shafts in the following precise flexes (see below).
Available in: Right Handed: 8°, 9.5°,11°, #3, #5. Fairway Driver 18 1/2° @ 43″ in Graphite
Left Handed: 9.5°, 11° Drivers, #3, #5
Superior Transfer of Force Through Redistribution of Weight
Patents: U.S. 326, 130, 5, 186, 465 and foreign patents.
Written about worldwide and featured in Alba Magazine in Japan – 3 Page Article showing how this club out performed all others!  Played on tour.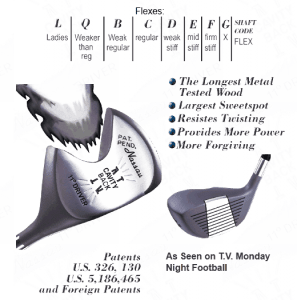 True Temper sports letter